Thursday I was able to leave work a couple of hours early for the holiday and decided to swing by the Goodwill Bins on my way home.  This was once a couple-of-times a week routine for me, but the bins ain't what it used to be so I stopped going.  Anyway, I was on the hunt for records and picked up three, but the gem of the collection was a little gatefold LP called "Taking Pride in Portland" and I couldn't pass it up.  Judging by the cover and the 1990 copyright date, I suspected this disc held some cheesy 80s synth goodness.  I didn't listen to it until later that night and I was not disappointed.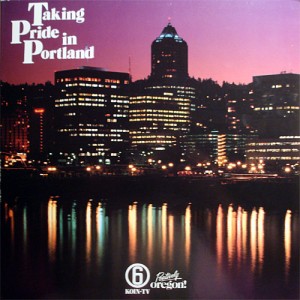 This is the first track, and I'll post them one at a time with the lyrics because I know this will build up some serious excitement in the Portland community.  I don't want to share them all at once because the amount of enthusiasm that oozes out of these tracks is sure to destroy the city that it strives to promote if not taken in moderation.  Not to mention that this baby is chock full of horrible lyrical cliches.  It's pretty impressive how many seemingly motivational yet empty strings of words they managed to cram into each track.  I bow in admiration.
So, here's track 1 of 8.  Enjoy!
Taking pride in Portland
A special place to be
Building for tomorrow
Making history

Growing up together
Stronger every day
Taking pride in Portland
Believing all the way

Being part of something
Knowing what it means
Sharing in the future
Of the great American dream

Knowing where we're going
Reaching for the sky
Caring for each other
Standing side by side

Now we're taking pride in Portland
A special place to be
Building for tomorrow
Making history

Growing up together
Stronger every day
Taking pride in Portland
Believing all the way

Taking pride in Portland
Believing all the way

Taking pride in Portland
Believing all the way